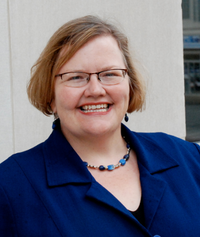 Mary Hendrickson is Director of the Food Circles Networking Project, an extension program that links farmers and consumers together in local food systems, at the University of Missouri. Her research and extension program focuses on understanding the changes taking place in the global food system and helps farmers, eaters, and communities create profitable alternatives. She has worked extensively with community groups working to increase the amount of fresh, flavorful and nutritious food available by providing technical assistance on marketing, business planning, feasibility studies, food safety and consumer preferences to farmers and community groups. She has helped agricultural cooperatives such as the Ozark Mountain Pork Cooperative, one of the nation's premier suppliers of natural pork, organize and connect with consumers, and worked with individual farmers to refine marketing plans and make connections with grocers, distributors, and chefs. She is currently working with stakeholders in the Kansas City area to establish a Greater Kansas City Food Policy Coalition, and has provided trainings to school food service directors, extension educators, farmers and policy-makers on emerging farm to school opportunities. She is a popular speaker who helps explain the production side of the agriculture and food system to health advocates, faith groups and community organizations; and the consumer side of food and agriculture to farmers and farmer organizations.
Hendrickson serves as the Associate Director for the University of Missouri Community Food Systems and Sustainable Agriculture Program. She participated in the International Assessment of Agriculture Science and Technology for Development as a coordinating lead author on the North America Europe sub-global report. She has served as President of the Agriculture, Food and Human Values Society (2006-2007) and as President of the Community Food Security Coalition (2001-2003), a national organization of community-based sustainable agriculture, hunger, and environmental groups. From 2003-2005, she was a Food and Society Policy Fellow, a program funded by the Kellogg Foundation.
Hendrickson is the recipient of the 2002 Cooperative Service Award presented by the National Farmers Union. Hendrickson holds a bachelors of science in agribusiness from the University of Nebraska, and a masters and Ph.D. in rural sociology from the University of Missouri. Occasionally, Hendrickson helps her brother on the family farm near Shickley, NE.